http://cshayden
.
blogspot.com/2006/09/wedding-of-peter-bradrick-kelly-brown.html
It occured to me that some new people might not be aware who this couple is. The link is about their wedding. I think that the bride is very photogenic.You get to enjoy such gems as this:
Peter and Kelly's wedding was not simply another ceremony. It was not a mere repetition of mankind's pattern of marrying and being given in marriage. The event was a victory for the forces of Christ and His Kingdom. Two young people from God-fearing, Christ-honoring, Kingdom-advancing families have come together and pledged to live as a representation of Christ's love for His bride, even as they raise up legions of children, we pray, for the glory of God. The Brown and Bradrick families have been at the forefront of reformation in the family, Christ-centered home education, and biblical New Testament churches. They have made tremendous sacrifices and faced adversity for their faithfulness, but this wedding was but one payoff for decades of fervent prayer and God-honoring family life.


The description of this photo has their normal over the top praise of Doug Philips.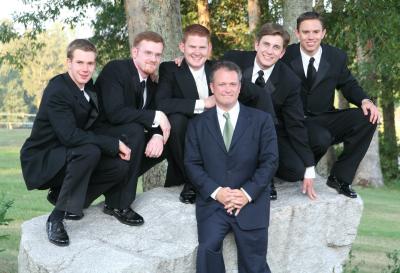 This picture brings back memories of when our friendship began: the 2003 Vision Forum internship. Each of the men standing on the rock (L-R, Nathanael Cordz, Tim Horn, Peter Bradrick, Nathaniel Darnell, and yours truly) were mentored by a great, godly, fearless leader, Doug Phillips (front and center).